"Android" – the name, the brand is selling like hot cakes since years now and continues to rule our daily lives. You would hardly find people moving around without their Android devices. No wonder, with the exponentially rising demand for Android devices, there is an equal steep in the demand of Android App Development in IT organizations. It has changed the way IT organizations work. With innumerable users looking for diverse apps to increase their kitty – be it entertainment, health, education, business, utility, IOT to name a few and with numerous downloads happening daily, Android App Development Services are buzzing with action and innovation. Originally, Android App Development Companies were viewed as mere programming utility providers, to develop applications for Android devices and now, it is the basic medium by which the end users communicate with the Android devices and have made it a part and parcel of their routines.
The increasing spree of innovations in the Android App Development arena has created a large amount of scope for entrepreneurs, developers, marketing professionals and businessmen alike. With each role essaying their own responsibilities, it is turning out to be a perfect amalgamation for businesses – Â Developers indulging into novel apps, marketing professionals using intentional strategies to expand the reach to maximum users and business men supporting them financially and strategically.
The question arises – 'Why is it so popular?' The answer is straight and simple:
Android App Development – One for All

Be it any industry, device, configuration, hardware, application design – Android is all set to embrace it with open hands. And that is the prime reason; it remains the hot favorite of all today and continues to increase its reach to endless users. There are certain significant reasons why it is highly recommended:
Since it is an open platform, developing novel apps is an easy target.
Android's detailed documentation and supportive community add a feather to its cap.
The support of Google Play Store – the largest mobile app online market and the host to Android applications is a prime ingredient in the success story of Android App Development. With high number of visitors reaching out to Android apps through Google Play Store, no wonder, it is one of the most sought after platforms.
Its ease of development, hassle free environment and quality rich customization make it worthy of its popularity.
Regular updating of applications on Android by Google also is one of the prime reason why all entrepreneurs choose Android primarily.
The developers are content with the robust SDK and the large collection of libraries that Android provides.
Points to Ponder for Effective and Efficient Android App Development Services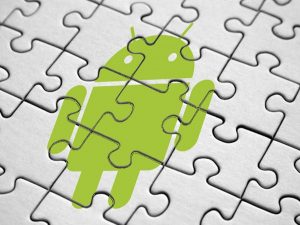 Connect with your audience
After all, it is your end users who are going to use the app that you are developing. Hence, first and foremost, it is very much important to understand and perceive that the audience really wants. To watch peer sites, monitor reviews and get a feel of what features are wanted / unwanted, to get an idea about what is missing in other apps that you can offer and keep your app 'better' from the rest are few of the many steps that you can take to ensure a user friendly and likeable app.
Balance your aspirations and requirements
However much you aspire to use the best of your creativity and innovative skills to develop an app with the best of features, it is always a wise step to stick to the basic requirements, that the end user would appreciate and develop a simple, error free and scalable app. Know your limits before you plunge into the pool of creativity and modernity.
Package it well to make it look attractive
Even if your app has the best of features and creativity, if it is not bundled properly, it will hit the eye of the user and will surely not provide a pleasant feel. As always, any app that is packaged properly with the apt combination of color, scheme, design, technical finesse, portability and robustness, is sure to win the heart of its audiences.
Make the most of Android Templates
A quick and efficient way to develop a most likeable app is to download and use readymade, easy-to-use and pre-designed templates. It's all there, for you. You just need to pick up the correct one, customize it as per your needs and get going. A sure shot way to save a large amount of your time, money and energy.
Keep updated with the most recent happenings
There is so much happening today, in this competitive environment and so fast, that before you realize, there is a new version and a much better one to almost everything. Google and Android both possess a lightning speed, at which they come up with newer releases and updates, each of which offer novel techniques to make your Android App Development experience an enriched one. Just keep an eye on it and things are surely easier to accomplish. Showcasing the latest trends and technologies is not only beneficial to your app but also creates a highly professional impression to your users too.
This surely is a big world, in itself. It's almost impossible to come up with an extensive set of do's and don'ts for a perfect Android App Development process. Nevertheless, these were a few sure shot tips to a successful one. Plunge into it, dive deep and enjoy the experience.
If  you have any challenging Problem/Requirement we have a solution. Visit http://www.valueedgesolutions.com/ and request a Quote.