Android Application Development provides countless possibilities to fulfil infinite dreams, which provides incredible shape to mobile technology towards easy human living.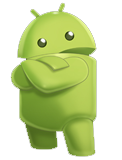 Android is not just an operating system based on Linux Kernel developed by some people or introduced by a well-known company "Google Corporation" but it is a tremendous platform made for smart mobile device like Smartphones, tablets & wearable devices from just making calls and sending text messages to fully equipped Tech Device meant to make life easy of one and all.
Android has gone beyond the boundaries and barriers and provide an innovative platform to mobile application development and introduced many extra-ordinary capabilities in mobile world with GPS, NFC, Sensor's, Augmented Reality (AR), Gaming, Entertainment & Social Network, UI Designs, Learning and Guidance, Sales Force Automation (SFA) and the buzz word these days – 
Enterprise Mobility
 with a simple touch and drag.
Android has given us some superb facilities which is very useful in an ever busy life like easy banking, online booking and payment facilities. It has lessen down the boundaries and distance between the countries and helped people to get connected with each other.
Smartphone became an un-detachable part of our routine life and it made our busy life easy to manage.
Below are some useful features of Android. During the course of this blog, we shall continue to introduce and explain about each of these features one by one.
GPS (Global Positioning System)
Suppose one day when you find yourself in some unknown and unaware place and you just want to know about that place or find some place of your interest, at that time GPS (Global Positioning System) can be very useful. Using GPS/Location based services, people can do some complex works such as find their current location, find places they are interested in, connect with their family's location, track devices, vehicle and places from anywhere. These are examples of some complex works (yet seem so simple) which would be impossible, if GPS were not available in the real world.
With the help of GPS Service and some creative ideas, Value Edge Solutions (VES) has introduced an application named "CityHelp – Explore Places Around You" for android devices. This android application runs with the help of GPS and can explore and track places of interest and get direction from current location with the help of Google Map.
Please install this app and we are sure you shall find this very useful whenever you travel to a new city or location either within your country or outside your country. :Â CityHelp
Have you ever found such service very useful? We'd love to hear your stories in the comments below.
To know more about services by Value Edge Solutions, please click here :Â 
Know More