We all are familiar with the word "SOFTWARE" and with their usages. Software and Applications have changed the world by changing the way of work and automating our day to day work. With the help of software's one can perform multiple tasks at the same time effectively from a single computer or a mobile phone or a tablet.
As an advancement in information technology we have been introduced to CLOUD and it has given us freedom to access data from anywhere. We don't need to carry our important data with us all the time, just store them on the cloud and access from anywhere with the internet connectivity. Cloud has given boost to the functionalities of the software and application. At present with the technological advancement towards the cloud and software we are now able to handle hundreds of tasks from anywhere as we are able to access data from anywhere with the internet connectivity.
We have already seen the benefits and potential of the software and cloud. Now just imagine what if the two major technological advancements are combined together. This primarily means – taking your software application to the cloud.
Some of the software applications is for similar type of purposes across different organizations. So many organizations prefer to use a software which is ready to be used rather than creating a customized solution for them. To address this particular need, comes the concept of Software as a Service (SaaS).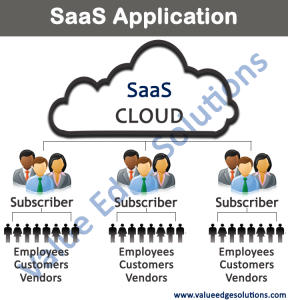 SaaS is a web based software or application which is made available to an organization for their usage. SaaS has successfully overcome the hindrances of desktop or traditional software applications and made it possible to use any software from anywhere on the internet. In SaaS model, service provider hosts software commercially for the customers.
Though service provider stores data in a single or same cloud, all the data stay secured and bifurcated and moreover, it is ensured that the data does not get clashed with other customer's data. Data escrow is the logic which allows service provider to protect the data within the SaaS application and ensures the protection against data loss.
SaaS is the future of software applications and the future seems bright with the SaaS model as everyone is moving ahead with the technology and get synchronized with cloud computing. Usage of SaaS is not restricted to your computer by more and more service providers are ensuring that their SaaS application is also available over Mobile and/or tablet devices, thus ensuring they have a wider reach.
Moreover, it enables users to afford it as users don't need to buy the whole product to use, they will use as per the requirement and features needed for long or short term by paying nominal subscription fee e.g. – Per user per month basis with different subscription models.
@ Value Edge Solutions (VES), we have already paced with the technological advancement and trend towards the future and penetrated into the SaaS model application development. We have been designing and developing such SaaS model which gives the user an unbelievable experience and technical advancement and ease in multi-tasking, economically and commercially beneficial for both service provider and consumer.
Please feel free to get in touch with us by contacting us or by sending us an email.